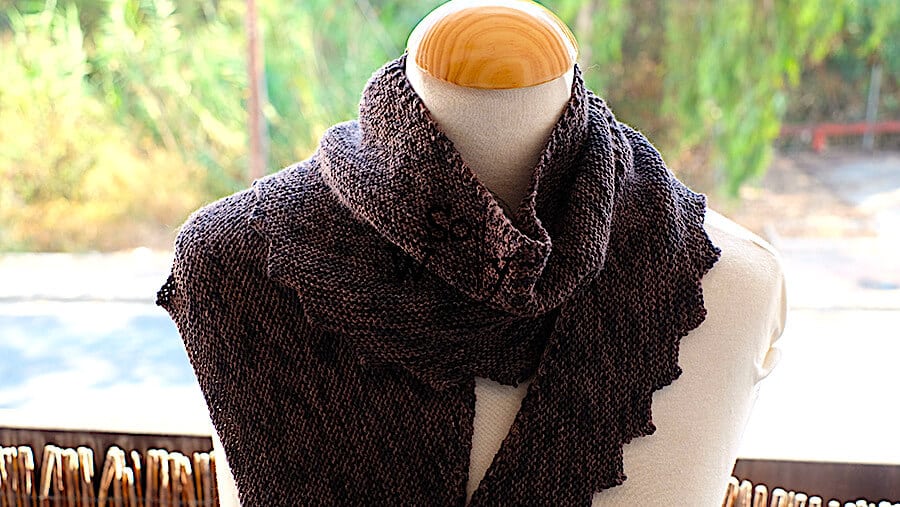 How to knit a Dragon's Tail Shawl for beginners, using Garter stitch!
In today's tutorial, you'll learn how to knit a stunning Dragon's Tail Shawl, using Garter stitch only, ideal for beginners (totally different to the Infinite Cowl we knitted last Autumn).
It's one of the easiest constructions you can find, asymmetric and super flexible: Use your favorite fiber, and make it the size you want.
The Dragon's Tail Shawl is the perfect project for variegated yarns. That kind of material will do the magic for you. Your only mission is to knit every stitch of every row!
It's a horizontal construction, I mean side-to-side: We start on the left end and finish on the right end (or vice versa), and there are no complicated increases nor decreases.
After knitting the first 12 rows, which I like to call "set up rows" because they won't be repeated again, we'll start knitting a 10-row repeat pattern, so easy, that you'll memorize it very quickly!
So, let's get busy!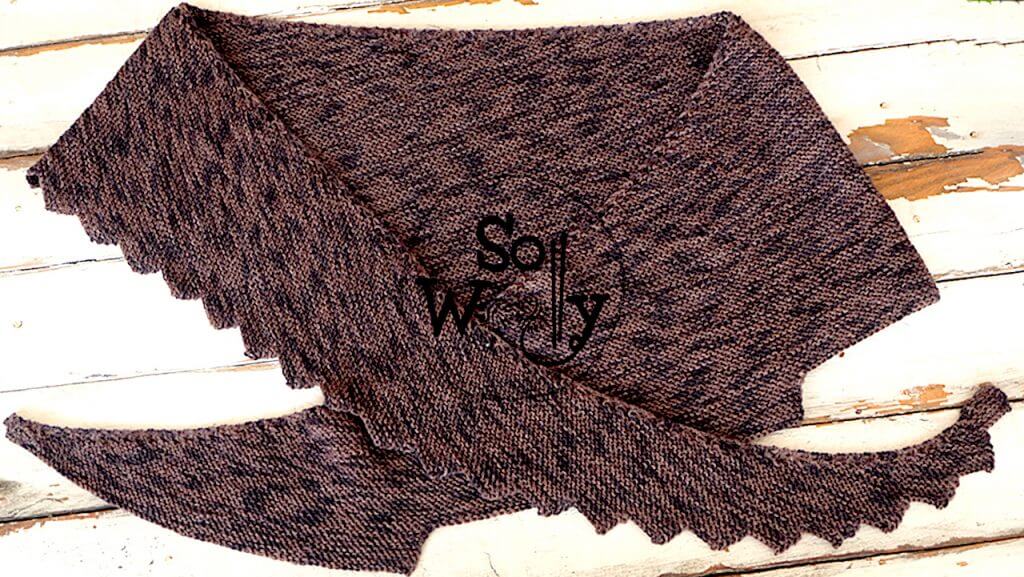 Materials
130 gr of Superwash Merino wool yarn (number 1 or fingering weight) #ad (533 m / 583 yd)
For this kind of project, I prefer handpainted yarns…so soft and pretty!
2 x US 7 / 4.5 mm knitting needles #ad
(Please note that if they aren't extra-long, it's better to 32 in / 80 cm use circulars, although we'll be knitting back and forth, not in the round).
I've been using this set of interchangeable circulars (in a different color) for many years now, and honestly, these needles are my favorites! #ad
Measurements of the finished Dragon's Tail Shawl
Width: 90 in / 230 cm (I made it extra width, you don't have to, but take into account that the minimum width shouldn't be less than 65 in / 165 cm).
Height: 12 in / 30 cm (meassured in the highest part).
Gauge
25 st = 4 in / 10 cm (in Garter stitch)
You can also use thicker yarn, for example, nº 4 (medium, worsted, or Aran), and US 9 / 5.5 mm. Gauge: 18 st = 4 in / 10 cm. Then you'll need approximately 450 gr of wool.
In that example, knit until the shawl measures 40 – 45 cm of height, and then bind off. It will be higher and narrower than mine.
Abbreviations
CO: Cast on
st: Stitch
RS: Right side of the work
WS: Wrong side of the work
K: Knit
yo: yarn over / yarn forward
BO: Bind off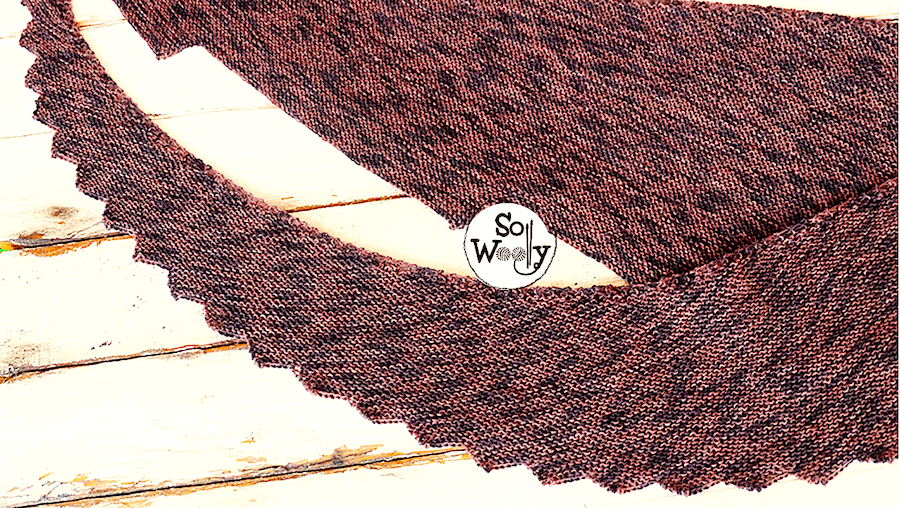 Dragon's Tail Shawl knitting pattern
CO 3 st
Set up rows:
1º row (RS): K2, yo, K1 (there are 4 st)
2º row: K2, yo, K2 (there are 5 st)
3º row: K2, yo, K to end
4º row: K to last 2 st, yo, K2 (there are 7 st)
5º, 7º and 9º rows: As per row 3
6º, 8º, and 10º rows: As per row 2 (there are 13 st)
11º row: As per row 3 (there are 14 st)
12º row: (WS): BO 6 st knitwise. K to last 2 st, yo, K2.
Once we've finished those 12 rows, we start the 10-row repeat pattern, as follows:
1º row (RS): K2, yo, K to end
2º row: K to last 2 st, yo, K2
3º, 5º, 7º and 9º rows: As per row 1
4º, 6º and 8º rows: As per row 2
10º row (WS): BO 6 st knitwise, K to last 2 st, yo, K2.
These last 10 rows will be repeated until the shawl has the desired height (for my shawl I knitted until it has 30 cm of height and 190 cm of width -170 st).
Finishing the Dragon's Tail Shawl:
Usually, to finish the shawl, knitters bind off knitwise when the desired length/height is reached. So that side of the piece is straight.
I decided to do something different: I divided the total number of stitches into 3.
So I BO 56 st knitwise, then knitted rows 1 to 9. And repeated the process once more.
Finally, I BO the remaining 58 st.
It's up to you 😉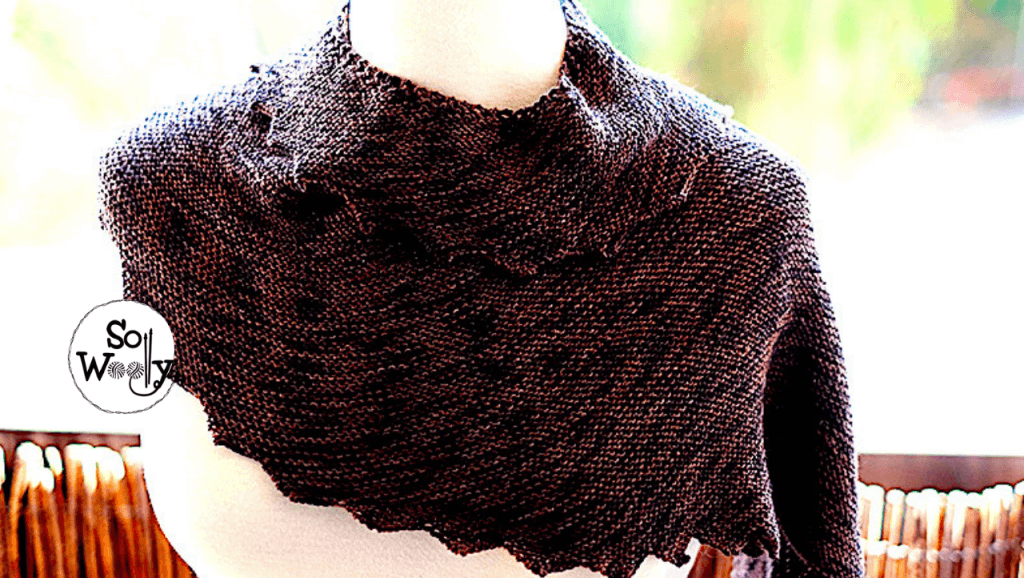 Click here to watch the video tutorial:
I hope you enjoy knitting this shawl as much as I did!
And don't forget to spread the love… (Instagram: @sowoolly).
Happy Knitting 🙂
xoxo
Carolina – So Woolly
"As an Amazon Associate, I earn from qualifying purchases."