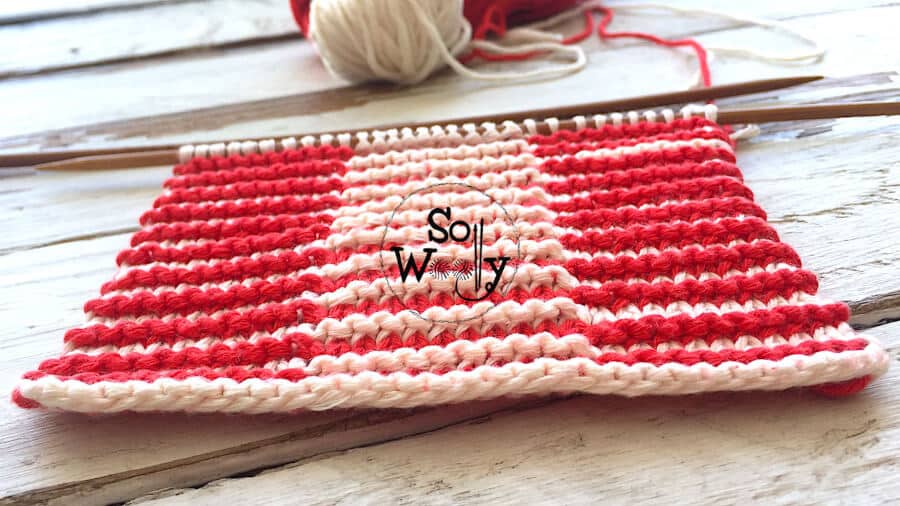 How to create Illusion or Shadow knitting, step by step
In this tutorial, I'm sharing a pretty special technique: How to knit a fabric that creates a shadow effect or an optical illusion, through texture and color.
Even if at first it appears complicated, shadow knitting is actually really easy to do (the only stitches required are knits and purls).
Its also endlessly adaptable, the strips can be made as wide as you like, and as many as you need.
This is why this kind of fabric is a great option when knitting blankets, cushions, place mats, table runners, bags, or even a scarf for the smaller members of the family.
Before anything else, I'd like to give you some tip-top tips to get the most from your next illusion knitting project 😉
First of all, it's important to choose two contrasting colors. Not necessarily white and x, ideally one color should be noticeably darker.
Secondly, it's better to use the same type of fiber for both colors (they should be of the same quality, thickness, and brand, whenever possible).
Last, but not least, for optimal outcomes, use needles one number lower than the manufacturers suggestion on the label (we don't want loose loops).
So now that you have everything you need to start your swatch, grab your needles and yarn, and let's get started!
For example, this swatch was made of 100% cotton yarn (for US 8 / 5 mm needles) #ad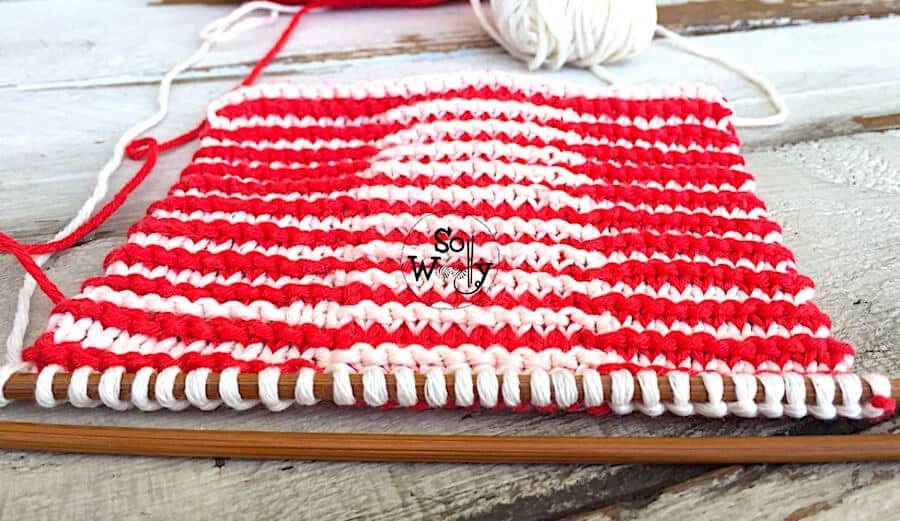 And I used my favorite bamboo needles (US 6 / 4 mm) (this set is just amazing!) #ad
Abbreviations
CO: Cast on
st: Stitch
RS: Right side of the work
K: Knit
P: Purl
CA: Color A (lighter color)
CB: Color B (darker color)
BO: Bind off
N.B.:
The swatch shown in the pictures has 30 st (3 strips of 10 st each).
To notice the effect, knit at least 2 strips.
The odd rows form the RS.
Shadow / Illusion knitting technique
With CA, CO multiples of 10; i.e.: 10 * 3 = 30 st (they should be at least 20 st).
1º row (RS): With CB, K across.
2º row: With CB, *K10, P10*. Repeat from * to *, to last 10 st, ending with K10.
3º row: With CA, K across.
4º row: With CA, *P10, K10*. Repeat from * to *, to last 10 st, ending with P10.
These four rows create the pattern. Repeat them until the desired length is reached.
When finished, with CB, BO knitwise after a row 4 (RS). (Please note that to see the shadow/illusion effect, it's necessary to work at least 4 in /10 cm).
This is the wrong side of the work: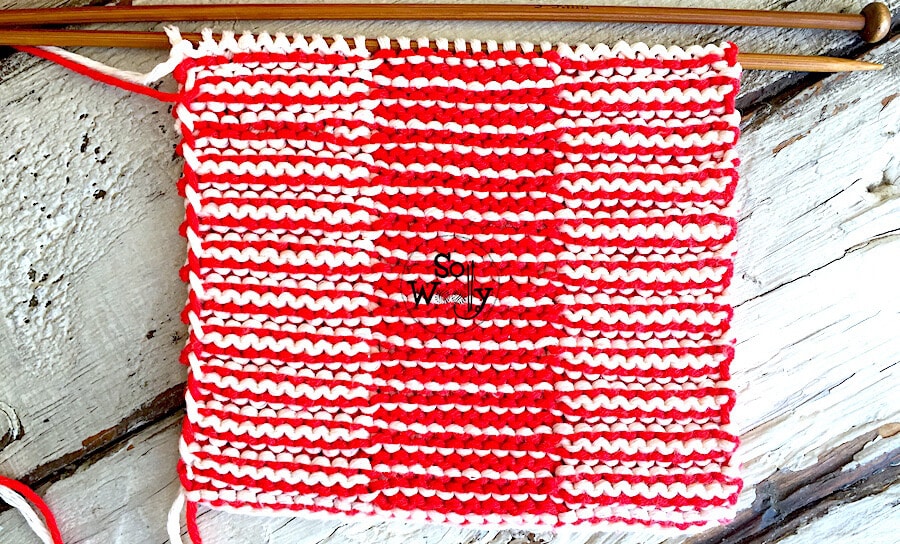 Finally, so you don't have any excuse, I'm showing how to knit the shadow/illusion technique in both, English and Continental style:
I hope you like it 😉
And don't forget to share your swatch (or project) on Instagram, and tag me, so we all can see it!
You'll find me @sowoolly
Hugs, and happy illusion knitting!
xoxo
Carolina – So Woolly
"As an Amazon Associate I earn from qualifying purchases."