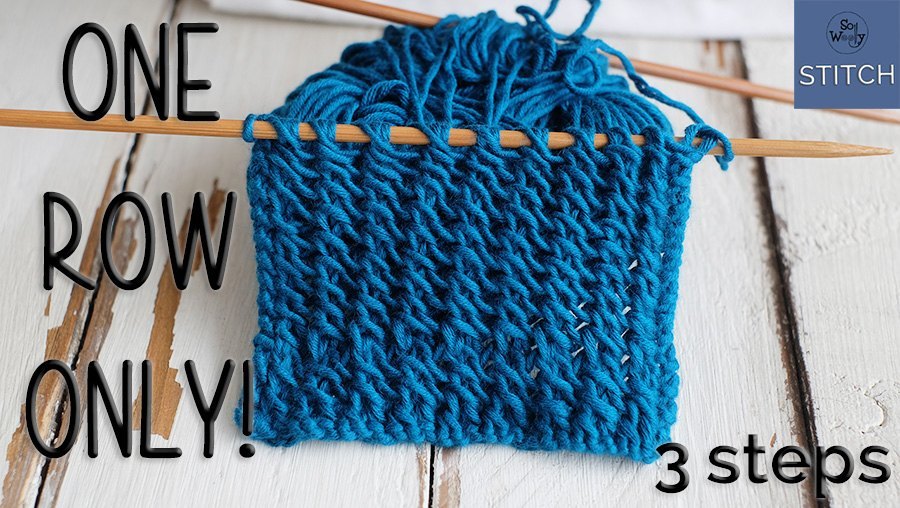 One row lace stitch: only 3 steps, identical on both sides and it doesn't curl
This lace stitch has everything a knitter needs! The advantages are many: Easy to knit, unisex, reversible, fluffy, it doesn't curl…one row only and three steps that will be repeated until you finish.
It's a great stitch for knitting women's and men's scarves and cowls, amongst other projects, and quite practical: no need to make additional edges or panels to avoid the normal rolling up when knitting lace.
And if you still haven't dared to knit lace yet, or scared to try, this stitch is an ideal way to start (in the video tutorial, you'll see how to do it, step by step, according to your knitting style: English and Continental).
For this stitch, unlike other lace stitches, I suggest you to use a knitting needle 1/2 number larger than the specified on the label for the yarn manufacturer.
On this swatch, I used cotton yarn for 4 mm (US 6) needles and 4.5 mm needles (US 7).
It's knitting time!
Abbreviations
CO: Cast on
st: Stitch
RS: Right side of the work
K: Knit
P: Purl
yo: Yarn over
s1: Slip one stitch knitwise
k2togtbl: Knit two stitches together through the back loop
BO: Bind off
One row lace stitch: only 3 steps, identical on both sides and it doesn't curl
CO loosely multiples of 3 + 2 stitches; i.e.: 3 * 5 = 15 + 2 = 17 stitches.
Row 1: K1, *yo, s1, k2togtbl*. Repeat from * to *, ending with K1.
Repeat this row until the desired length is reached. When finish, bind off knitwise.
N.B.: If you take a closer look of my swatch, you'll note that a few rows after the CO, the pattern has faded out a little bit. It hasn't the same texture as the rest of the fabric.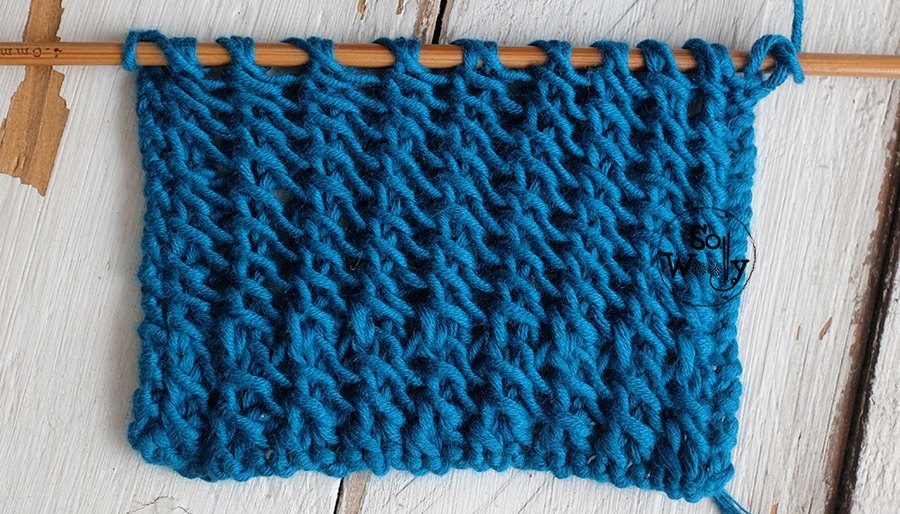 Why? Well, I got distracted and knitted 2 stitches together as usual, inserting the needle from left to right out of habit!
Try not to make the same mistake! Concentrate and knit the two stitches together inserting the needle through the back loop, to get the desired result…
When finished, don't forget to block your work 😉
Take a look here if you don't know how to block your knitted garments
Blocking makes your knitting look much better: The stitches get great definition…crisp and clear!
This kit comes with a great mat and the pins!
Enjoy the video:
One row lace stitch: only 3 steps, identical on both sides and it doesn't curl
I hope you like it, practice and share your work on Instagram or Twitter (and tag me, so I can see what you're knitting!).
Hugs and happy knitting,
Carolina – So Woolly
PS: Looking for more only one row stitches? Find more here: