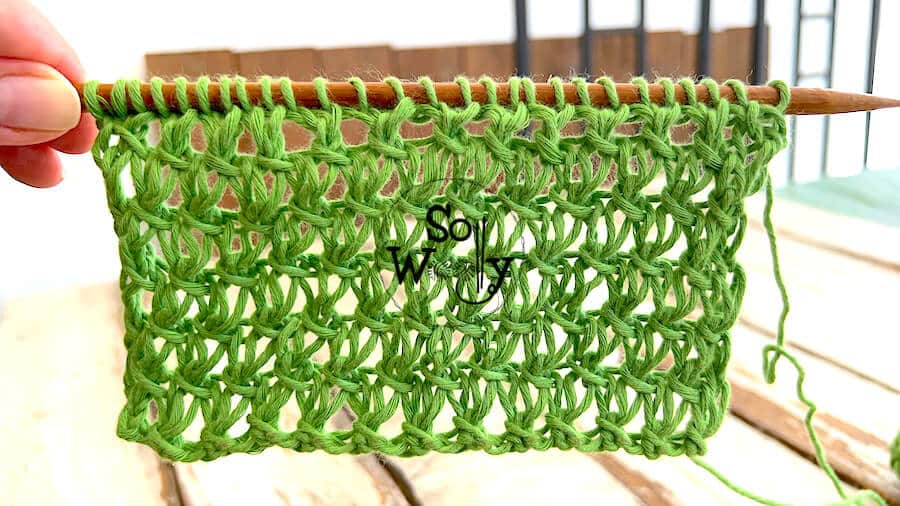 How to knit a Lace Background stitch pattern (4 rows only!)
Today, I'm sharing how to knit and bind off a Lace Background stitch, perfect for S/S scarves, wraps or throws.
Although it may seem complex, it's not; it includes a short repeat (just four steps to be done time and time again).
This Lace Background stitch is a four-row repeat pattern, and the techniques required are well known to all knitters.
In addition, it's a pretty versatile pattern: You can create a sturdy fabric, rich in texture, by using a smaller needle size than the ones normally proposed by the manufacturer.
However, if you use two or more needle sizes up, as I did for my swatch, the result will be a lacy, light, more "summery / summerish / summer" kind of garment.
Besides, the Lace Background stitch, as its name suggests, can be used as a central panel, or combined with more complicated lace designs to highlight different sections in a shawl.
Finally, to get a beautiful look, take a look at my best tips when knitting lace here!
Ok, enough chat 🙂 
Grab your needles and some yarn, and let's get busy!
Abbreviations
CO: Cast on
st: Stitch
RS: Right side
K: Knit
P: Purl
yo: Yarn over
sl1pw: Slip one stitch purlwise (pass one stitch onto the left-hand needle as if to purl)
passo: Pass there slipped stitch over the las two (the knit stitch and the yarn over)
WS: Wrong side
BO: Bind off
N.B.:
The odd rows form the right side of the work.
There are no edge (selvage) stitches included in the stitch count. If you like to have them, add two stitches to your calculations.
Always slip the stitches purlwise (as if to purl).
Please note that the number of stitches will increase after rows 1 and 3, but they will get to the original amount after rows 2 and 4.
This swatch was knitted using a blend of cotton and polyester yarn (smooth, nº 3 or light, and easy to work with) #ad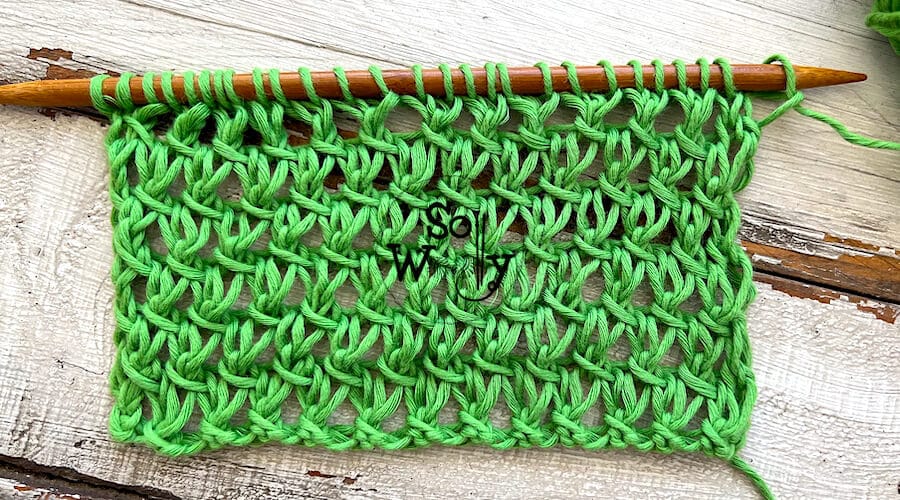 With my US 10.5 / 7 mm pointy bamboo needles #ad
How to knit a Lace Background stitch
CO an odd number of st.
Row 1 (RS): K1, *yo, sl1pw, K1, yo, passo*. Repeat from * to *, to end
Row 2: *P2, drop the yo*. Repeat from * to *, to last st, P1
Row 3: K2, *yo, sl1pw, K1, yo, passo*. Repeat from * to *, to last st, K1
Row 4: P3, *drop the yo, P2*. Repeat from * to *, to end.
These four rows create the pattern. Repeat them until the desired length is reached.
When finished, BO as shown in the video tutorial, down below.
This is the other side of the work: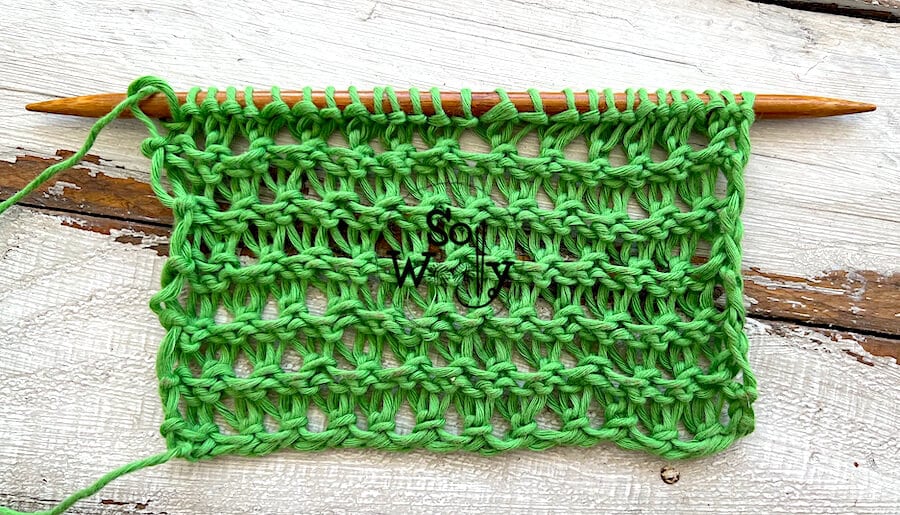 Enjoy the step-by-step video tutorial:
Thank you for watching 🙂
Hugs, and happy knitting, 
Carolina – So Woolly
"As an Amazon Associate, I earn from qualifying purchases".