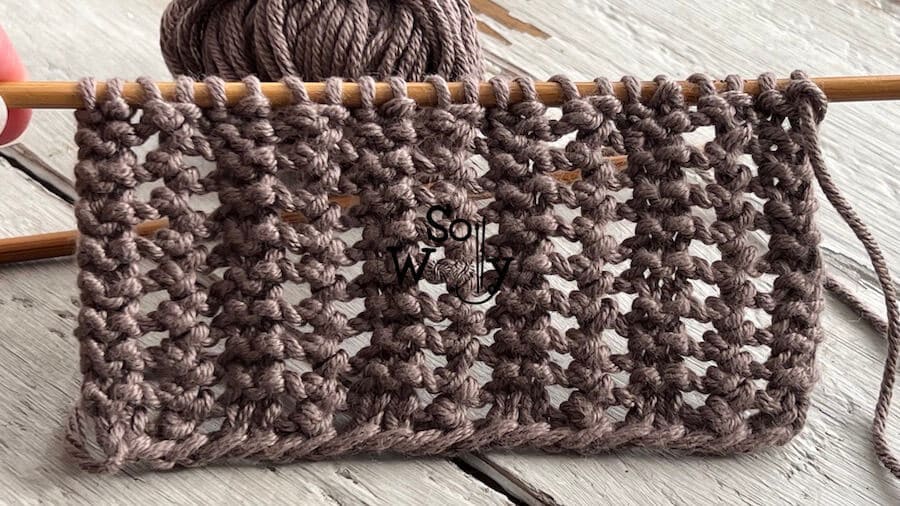 How to knit the One-row repeat stitch: Reversible (it doesn't curl)
In this tutorial, you'll learn how to knit a one-row repeat lace knit stitch, in both, English and Continental styles.
It's a reversible knit stitch pattern, identical on both sides, although, to me, the even rows form the "Right" side of the work.
Additionally, this one-row lace knit stitch doesn't curl, because of the combination of knit and purl stitches; similar to the Herringbone Lace stitch we practiced a while ago.
Apart from being pretty easy to do (there are no twists nor any especially difficult steps), you can use it for both Summer and Winter garments, in other words, cotton or wool, it's up to you 🙂
Nevertheless, before we get started, I'm sharing some of the best tips when knitting lace stitches:
Firstly, try to use sharp pointy knitting needles. These are perfect! #ad
The time and effort saved are priceless; they will make your work much easier!
Secondly, don't forget to knit a swatch!
It is the only way to be absolutely sure of how many stitches to cast on as well as making sure that we have the right sized needles and the proper yarn for the project at hand.
Then, if you knit a 4 x 4 inches (10 x 10 cm) square, you'll quickly see, the need to go up or down a needle, or, that the chosen stitch doesn't work with the fiber (wool, cotton, Alpaca, blends, etc.).
Last, but not least always block your work when it's finished. Click here to see how to do it, step by step.
By blocking your knitwork, you'll achieve crisper stitches; the fibers relax, as well as the pattern itself.
Furthermore, that technique will help you find out the exact size of your gauge.
Some fibers will expand after getting wet, so it's vital to test the final measurements before starting the whole piece.
Now that you have everything you need to try this adorable One-row repeat reversible lace stitch, grab your yarn and needles, and let's get busy!
Abbreviations
CO: Cast on
st: Stitch
RS: Right side of the work
P: Purl
K: Knit
yo: Yarn over
P2tog: Purl two stitches together
WS: Wrong side of the work
BO: Bind off
This swatch was made out of super soft 100% cotton yarn (beginner-friendly) #ad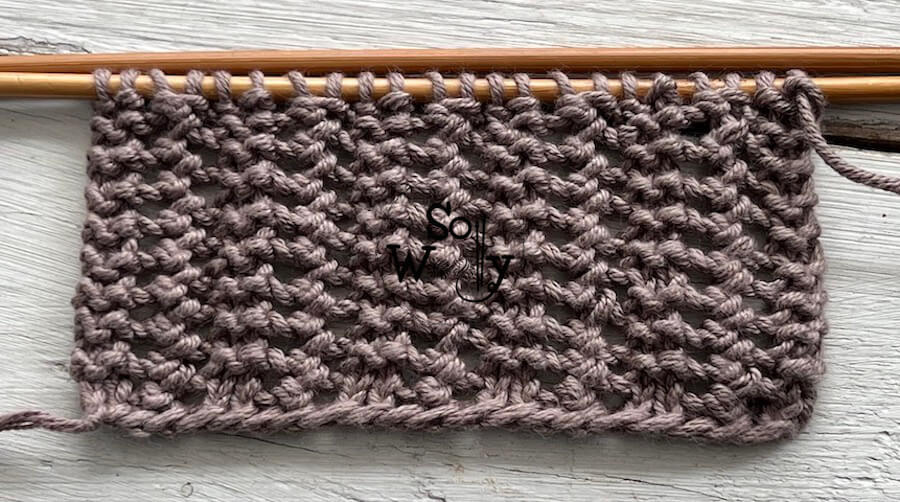 How to knit the one-row repeat lace knitting pattern
CO multiples of 4 + 2; i.e.: 4 * 4 = 16 + 2 = 18 st
Setup row (WS): P across
1º and only row: K2, *yo, P2tog, K2*. Repeat from * to *, to end.
This last row creates the pattern. Repeat it until the desired length is reached.
When finished BO knitwise if you are facing the RS; or purlwise, if you're facing the WS.
I hope you like it.
This is the other side of the work: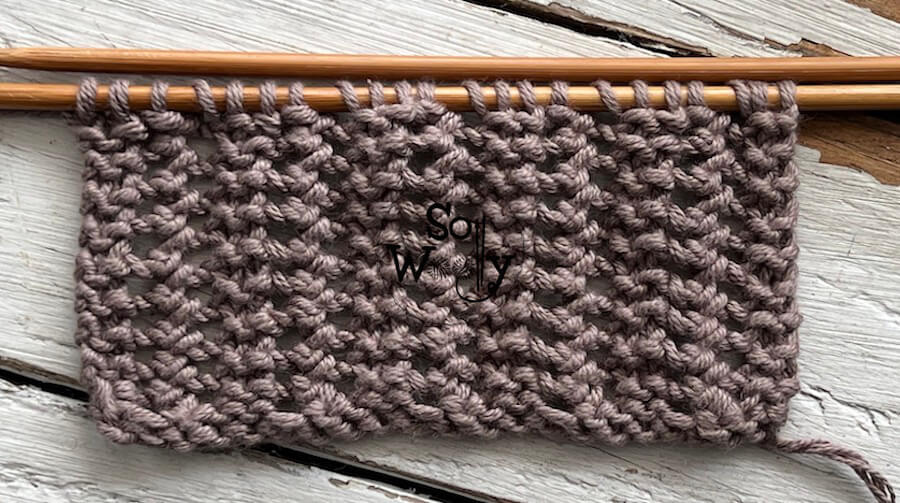 Thank you for watching!
Hugs, and happy knitting 🙂
xoxo
Carolina – So Woolly
PS: Loving the one-row repeat knitting patterns? Take a look at these:
One-row repeat knitting pattern, perfect for scarves
How to knit a super easy one-row repeat pattern
Learn to knit the One-row repeat stitch: Reversible, great for scarves
"As an Amazon Associate, I earn from qualifying purchases."