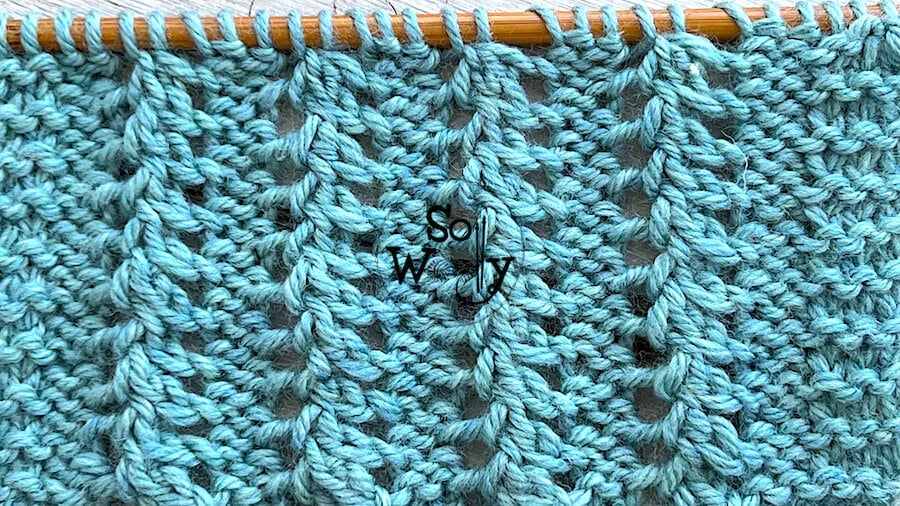 How to knit the Lace Scarf stitch (2 rows only!)
Today, you'll learn how to knit the Lace Scarf stitch, an elegant vertical design, full of texture.
The good news is that it will also work for accessories, such as infinite cowls, hats, gloves, mittens, etc.
Moreover, you can use it for larger garments: Tops, wraps, cardigans, sweaters, and many other projects.
It's a two-row repeat pattern, fun to knit, and easy to do (it doesn't matter if you're not an expert knitting lace).
Actually, the only techniques required are knit, purl, and the most common increase, and a simple decrease.
Although is not identical on both sides, they look pretty, so I'd say it's a reversible stitch.
Besides, it's a pretty versatile pattern: Work with cotton yarn, bamboo, linen, or its blends, and create a Spring-Summer piece.
Alternatively, if you use wool yarn, Alpaca, Cashmere, or its blends, the result will be a warm, cozy, Autumn-Winter garment.
Finally, don't forget to use sharp tip needles (they are a "must be" when knitting lace patterns) #ad
And…
Block your work once it's finished! The appearance of your lacy fabric will improve considerably 🙂
Ok, it's time to knit a beautiful swatch…
Grab your needles and some yarn, and let's get lacy!
Abbreviations
CO: Cast on
st: Stitch
RS: Right side
K: Knit
P: Purl
yo: Yarn over
k2togtbl: Knit two stitches together through the back loop
WS: Wrong side
BO: Bind off
N.B.:
Firstly, the first row is a setup row or row "0". It will be worked once; it won't be repeated again.
Secondly, the odd rows form the right side of the work.
Thirdly, there are three stitches on each side, included to create a Garter stitch edge.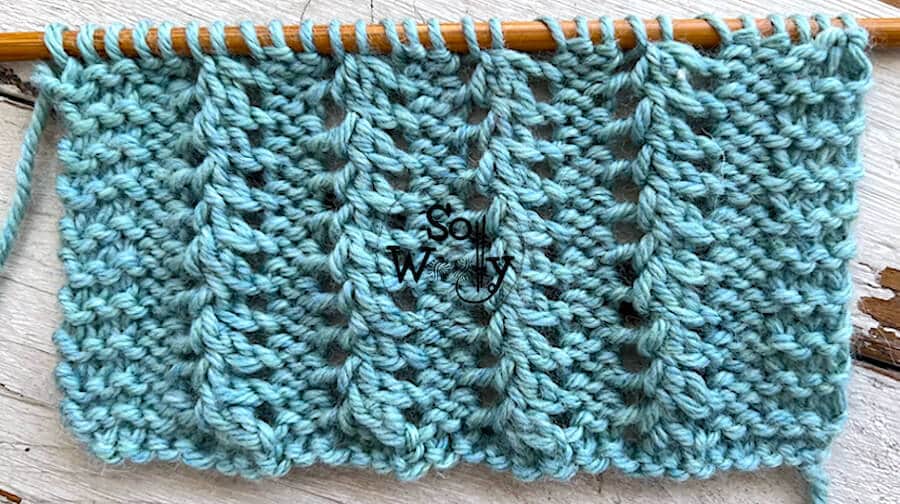 How to knit the Lace Scarf stitch pattern
CO multiples of 5 + 8; i.e.: 5 * 3 = 15 + 8 = 23 st.
Setup row: K across
Row 1 (RS): K3, *P2, yo, k2togtbl, K1*. Repeat from * to *, to last 5 st, ending with P2, K3
Row 2: K5, *yo, k2togtbl, P1, K2*. Repeat from * to *, to last 3 st, ending with K3.
These last two rows create the pattern. Repeat them until the desired length is reached.
When finished, BO purlwise after row 2 (RS).
This is the other side of the work: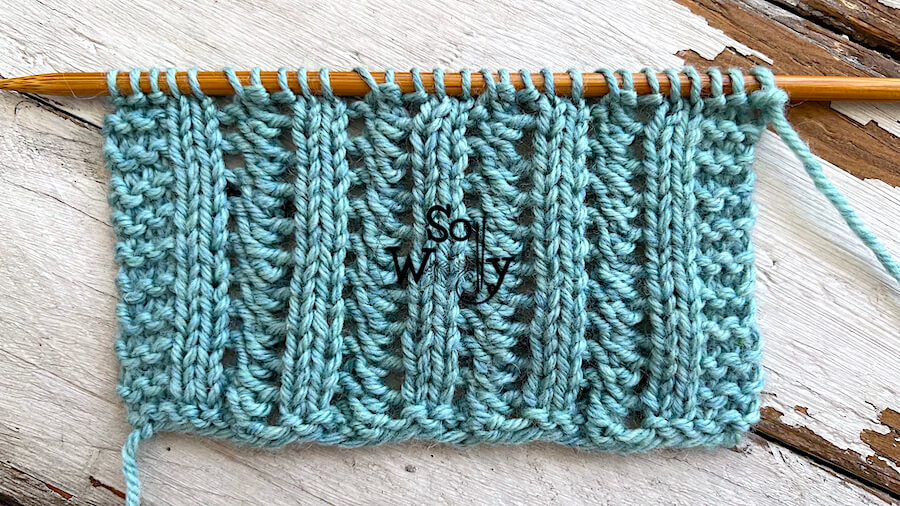 Enjoy the video tutorial:
Thank you for watching 🙂
Hugs, and happy knitting,
Carolina – So Woolly
PS: Searching for more two-row repeat reversible stitch patterns? Take a look!
"As an Amazon Associate, I earn from qualifying purchases."