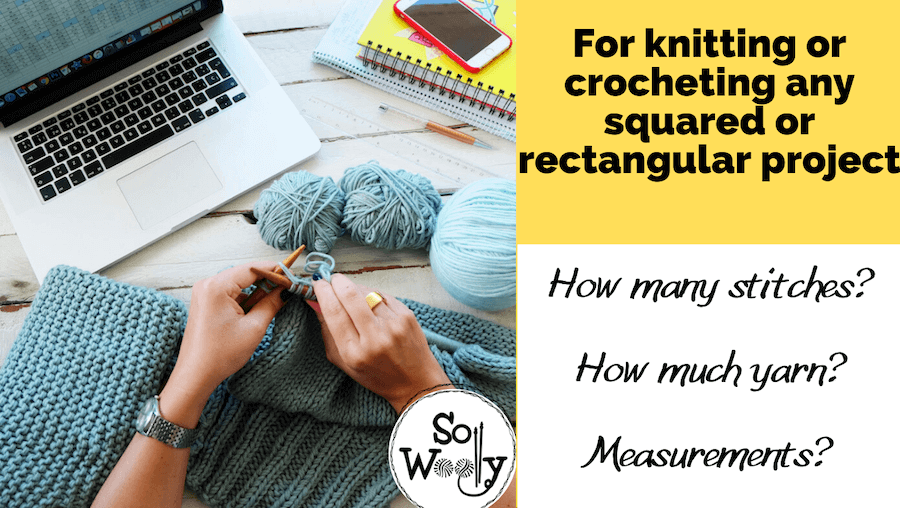 The Essential Guide to stitches, yarn, and measurements for your knitting/crocheting projects
Before knitting (or crocheting) any squared or rectangular project (such as a scarf, a cowl, a blanket, a cushion, a table runner or place mat, etc.), there are some aspects we need to know. For example: Measurements, how many stitches to cast on, how much yarn will be required, is the stitch we love suitable for this project and this yarn? And many, many more questions…
This is why I have created a system, a series of steps that will help you find out everything you need to know in advance, so you can start knitting (or crocheting) your own project, using the yarns and stitches you love, with total confidence.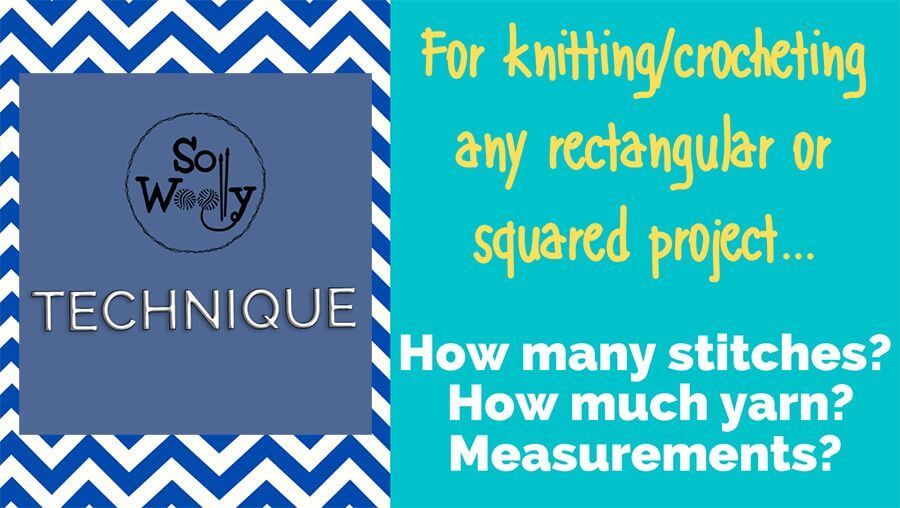 The essential guide to stitches, yarn, and measurements for
your own knitting or crocheting projects
For this demonstration I'm following the process for knitting my own cowl design (but it applies to any squared or rectangular garment):
1) Firstly, we will knit (or crochet) a swatch, using the stitch, needles (or hook), and yarn we have chosen for our project. Please, don't skip this step, it's the basis of the whole system! Think of a reversible knitting stitch pattern preferably, that doesn't curl, if you don't want to knit edges to the piece.
Take a look at your swatch and see if the fabric has the density you are looking for, or whether it's too loose or too tight: If it's too loose, go down 1 or 1.5 needle size; if it's too tight, go up 1 or 1.5 needle size.
My swatch measures 6.7 in (17 cm) x 4.7 in (12 cm) and has 38 stitches. Your swatch should be at least 4 x 4 in (10 x 10 cm). The bigger the swatch, the more accurate your end results.
2) Weigh out your swatch (mine weighs 19 gr).
3) Standard Measurements:
An adult cowl, measures 23.5 in width x 9 in height (60 x 23 cm) approximately.
But you can change them by all means. Do this exercise: Take a measurement tape and put it around your head, forming a circle, and write down this measurement. You should be able to raise and lower the tape from the nose to the neck comfortably. Look yourself in the mirror and see how high and how wide your cowl should be, and write down these measurements.
An infinite cowl (or a scarf) must have at least 59 in (150 cm) height approximately, and perhaps, a little narrower (around 6-8 in /15-20 cm), but that's up to you. This is why the tape measurement exercise is so helpful!
A squared baby blanket measures 35 x 35 in (90 x 90 cm) approximately.
A rectangular baby blanket normally measures 35 x 29. 5 in (90 x 75 cm).
4) Now, calculate how many stitches to cast on:
Multiply the number of stitches of the swatch (38) by the width of the cowl (60 cm), and divide the result by the width of the swatch (17 cm):
38 x 60 / 17 = 134 stitches
This is how many stitches we will cast on. You could add 2 stitches for seaming, if you are knitting the cowl flat (back and forth), or indeed no stitches at all, if you are knitting with circular needles.
It's important that this number be multiple of the stitch pattern you want to use. For example: If the instructions say "Cast on multiples of 4", divide this number 134 by 4 and see if the result isn't exact (if it's exact, then you don't need to do anything else, you are good to go):
134 / 4= 33.5 Not exact, so I if I round it up to 33 and multiply 33 by 4
33 * 4 = I get 132 (you need to get a whole number, without decimals)
This is not too different from 134, so I'm happy with it!
I can cast on 132 stitches. 2 stitches less in this gauge won't affect the result significantly.
5) Finally, how to calculate how much yarn you need: To find out, we need to know how many times our swatch fits into the cowl.
Step 1: Multiply width by height to know the area of the cowl:
60 cm x 23 cm = 1380 (I'll call this result "A")
Step 2: Calculate the area of the swatch. Again, multiply width by height:
17 cm x 12 cm = 204 (I'll call this result "B")
Step 3: Divide "A" by "B":
1380 / 204 = 6.76. We can round up to 7 (I'll call this result "C")
Step 4: Multiply the weight of your swatch by "C":
19 gr x 7 = 133 gr
This is how much yarn we'll need. (You can round it up to 140 or 150 gr, to allow for a margin of error).
Et Voilà! That's it! Now you know everything needed to knit/crochet your own cowl, scarf, blanket, etc., design!
Enjoy the video tutorial:
Hugs, and happy knitting!
xoxo
Carolina – So Woolly