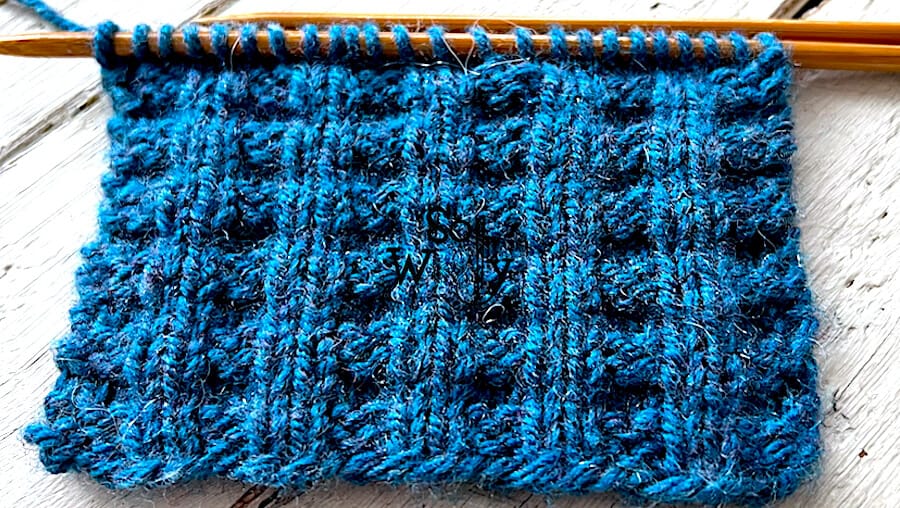 How to knit the Thermal stitch: For veterans and absolute beginners!
In this post, I'm sharing how to knit the Thermal stitch, known also as "Interrupted Rib" (similar to the Pique stitch we practiced a couple of weeks ago).
It's a four-row repeat pattern, that's totally beginner-friendly!
Why?
Well, there are some reasons:
First of all, it's simple to knit; the Thermal stitch combines knits and purls only.
In fact, there are no increases, decreases, or crossing stitches involved… easy peasy.
What's more, two of the four rows are plain knit and purl rows!
Secondly,  although both sides are not identical, you can decide which one will be the "right side", because the two of them look nice 😉
Honestly, I prefer the "wrong side" (the one formed by the even rows).
Last, but not least, because of the frequency of the knits and purls, the piece lays flat, so there is no need to add edges.
Finally, you can use this pattern for a wide range of projects: Knit a blankie, a hat, or even a sweater.
Ok, grab some yarn + needles, and let's get started 🙂
Abbreviations
CO: Cast on
st: Stitch
RS: Right side of the work
K: Knit
P: Purl
BO: Bind off
WS: Wrong side of the work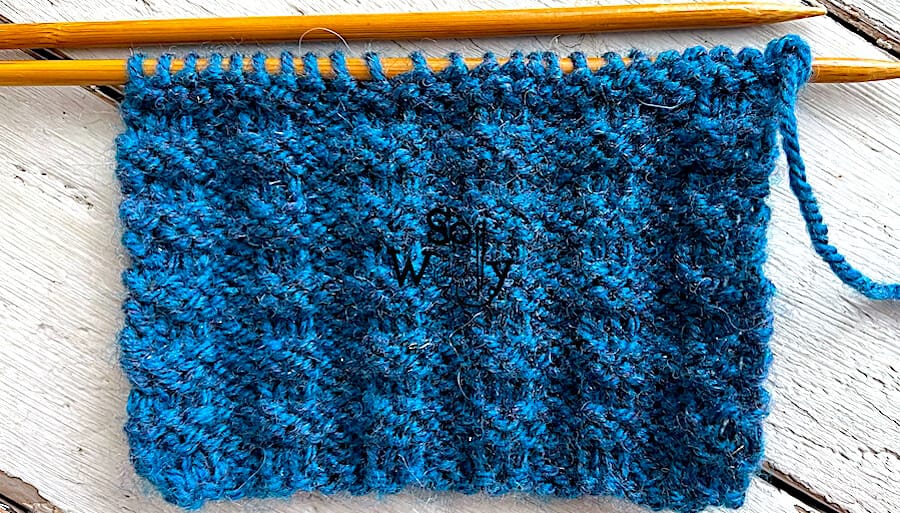 Are you looking for my comfy bamboo needles that come in a bag ;)? #ad
Thermal stitch knitting pattern
CO multiples of 4 (this number will include the edge stitches, the first and the last).
1º row (RS): K1 (edge), *K2, P2*. Repeat to last 3 st, K2, K1 (edge).
2º row: Work each st as it presents. Do the opposite from the previous row (or knit the knits and purl the purls), as follows:
K1 (edge), *P2, K2*. Repeat to last 3 st, P2, K1 (edge).
3º row: P across
4º row: K across
These four rows create the pattern. Repeat them until the desired length is reached.
When finished, BO knitwise after a row 3 (facing the WS).
This is the other side of the work: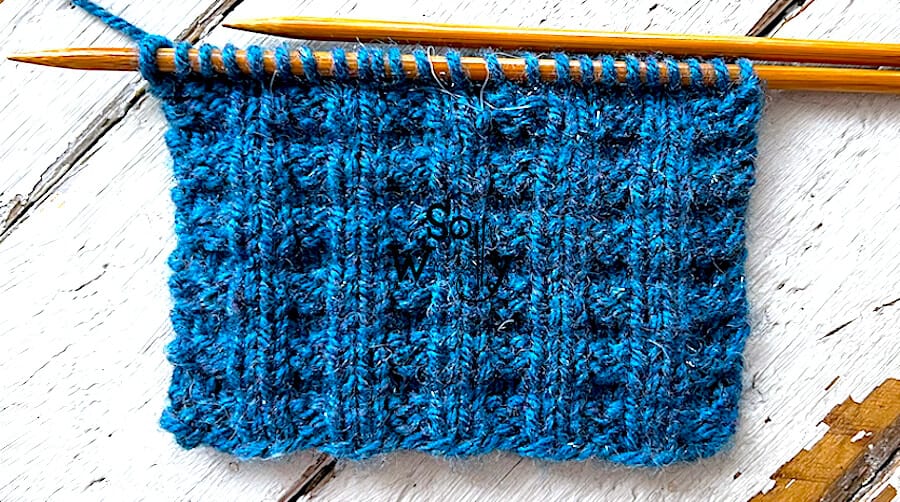 Enjoy the video tutorial:
I hope you like it!
Hugs, and happy knitting 🙂
xoxo
Carolina – So Woolly
PS: Are you interested in knitting a blanket, scarf, infinite cowl, or any other rectangular/square garment?
Do you know exactly know how many stitches to cast on, the measurements, and the amount of yarn needed?
Well, if you don't know, I have the perfect solution!
Follow my step by step method, and shine 🙂
"As an Amazon Associate, I earn from qualifying purchases."