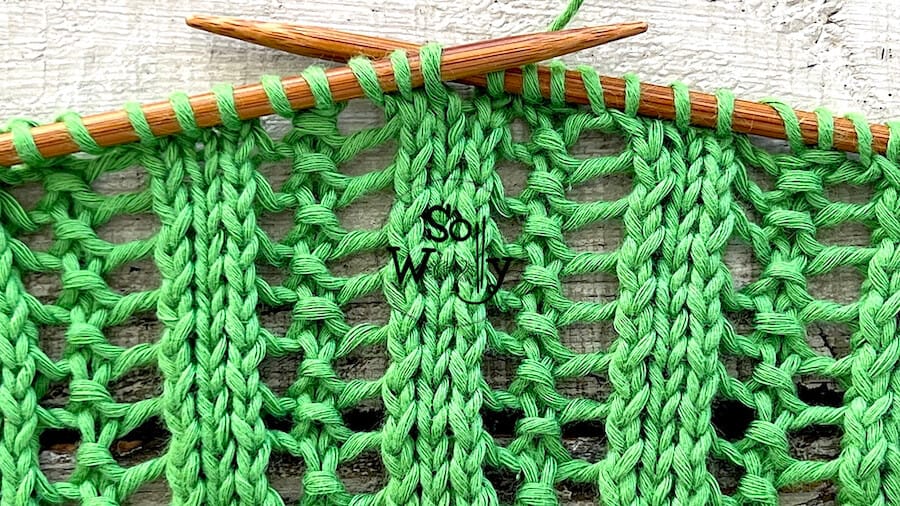 How to knit the Openwork Ladders stitch (just two rows)
In this post, I'm sharing how to knit the Openwork Ladders stitch, in both, English and Continental styles.
A lacy stitch pattern, simple yet pretty, just like the doctor ordered!
Honestly, it's not complicated at all: Only two rows and the steps are well-known to us knitters.
In fact, we'll be doing the most used increases and the most popular decrease there is.
Additionally, it's one of those vertical, stylish designs; it reminds me of another Two-row repeat Lace pattern we practiced some months ago.
And maybe you're wondering: What kind of garments is it good for?
Well, the Openwork Ladders stitch is great for seasonal garments.
Knit a wrap, a rectangular shawl, a scarf, or even a top using bamboo, linen, cotton yarn, or their blends, and you'll have a light SS accessory.
On the contrary, if you knit the same wrap, shawl, scarf, or cardigan, using Alpaca, Merino wool, Cashmere, or their blends (I particularly love the silk-wool blend), you'll enjoy a cozy FW
garment 😉
Nevertheless, if your choice is to knit a piece that should stay flat, don't forget to add a nice edge or border on each side (to prevent curling).
Finally, to get a professional look, think of blocking your knit work once it's finished.
Blocking our lacy garments is the last step for a high-definition pattern, flat, without flaws, where every stitch shines!
Ok, enough chatting! It's time to take action: Grab your needles and some yarn, and let's get started 🙂
This swatch was knitted using a cotton yarn-polyester blend (light, smooth, and durable) #ad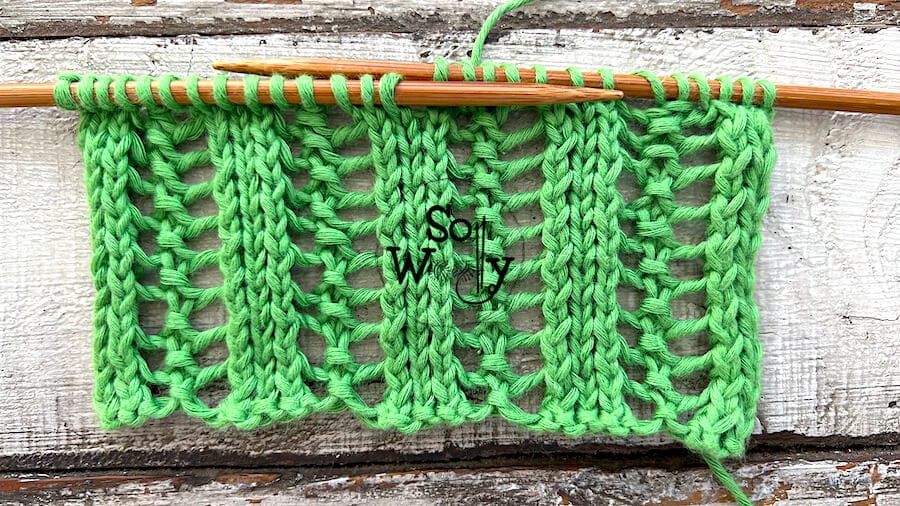 Using my extra long bamboo needles set (18 pairs) #ad
Abbreviations
CO: Cast on
st: Stitch
RS: Right side
K: Knit
P: Purl
yo: Yarn over
sd: Simple decrease (left-leaning decrease). Slip one stitch as if to knit (knitwise), knit the next, and pass the slipped stitch over the last one)
k2tog: Simple decrease (right-leaning decrease). Knit two stitches together
WS: Wrong side
BO: Bind off
N.B.:
The odd rows form the right side of the work.
The edge stitches will be knitted on the odd rows and purled on the even rows.
Openwork Ladders knitting pattern
CO multiples of 6 + 1 + 2 (edge stitches); i.e.: 6 * 3 = 18 + 1 = 19 + 2 = 21 st.
1º and every odd rows (RS): K1 (edge), *K1, sd, yo, K1, laz, k2tog*. Repeat from * to *, to last 2 st, K1, K1 (edge).
2º and every even rows: K1 (edge), P1, *P2, K1, P3*. Repeat from * to *, to last st, K1 (edge).
These two rows create the pattern. Repeat them until the desired length is reached.
When finished, BO purlwise after row 1 (WS).
This is the other side of the work: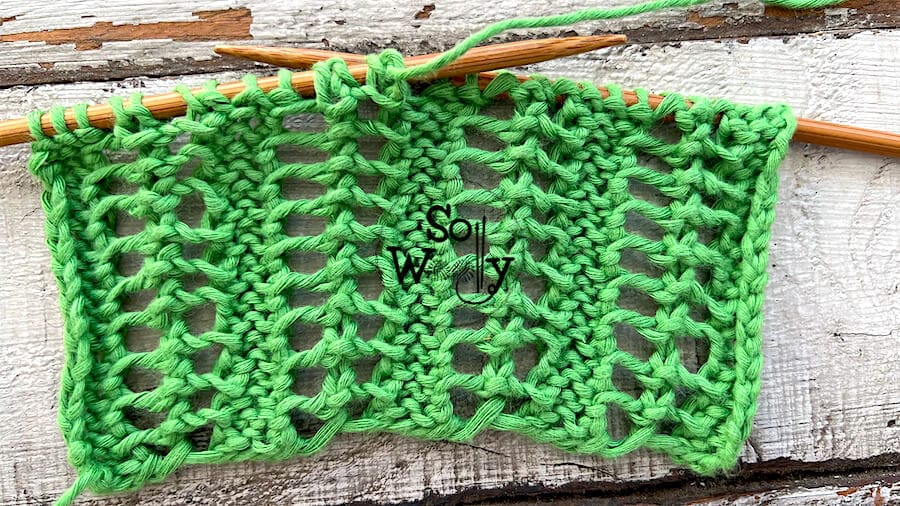 Enjoy the video tutorial (in English & Continental styles):
Thank you for watching 🙂
I hope you like it (and don't forget to share the love).
Hugs, and happy knitting!
Carolina – So Woolly
"As an Amazon Associate, I earn from qualifying purchases."