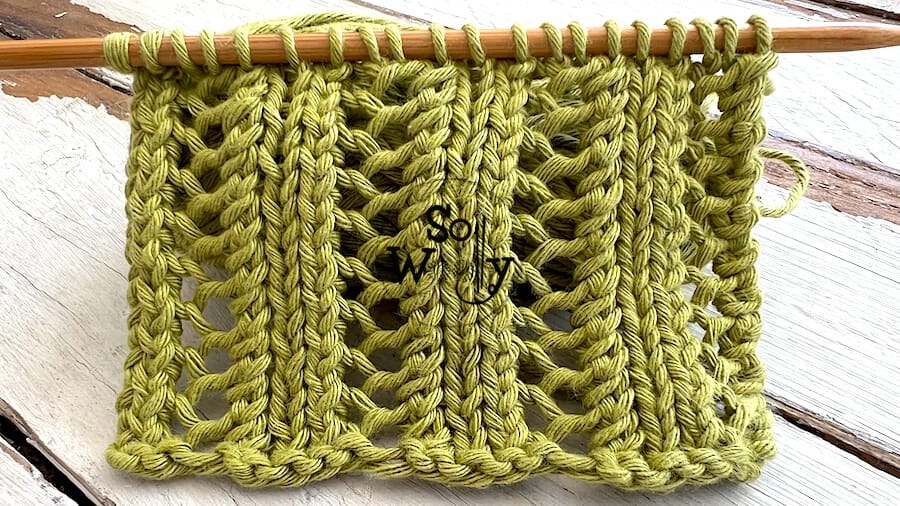 How to knit an easy Two-row repeat lace stitch pattern
In today's post, you'll learn how to knit an easy two-row repeat lace pattern, one of those so-called "proper lace" stitches.
As such, they are lace patterns because the increases and decreases are worked on in each row.
Whereas Openwork stitch patterns are normally worked purling the even rows of the desired design.
So the lace patterns require "more work" according to some, as the even rows or "resting" rows also need our attention, or… "it's complicated" 😉
Complicated, no, not really… this two-row repeat lace stitch is actually easy to do!
Actually, the steps that we have to repeat are the easiest ones when it comes to knitting lace.
Today's lace stitch has a vertical design to it, even smoother than the Lace Stripes we practiced sometime ago.
Honestly, its elegant look makes it perfect for scarves or wraps; it will absolutely sing and shine in any long garment.
Finally, with this kind of pattern, versatility prevails: Create Summer garments by using cotton yarn, linen, bamboo, or any of the myriad blends…
Or try using wool yarn, Alpaca, Merino, Cashmere, etc., to knit Winter projects.
Ok, enough chatting! Grab your needles and some yarn, and let's get started!
Abbreviations
CO: Cast on
st: Stitch
K: Knit
yo: Yarn over
k2tog: Knit two stitches together
p2tog: Purl two stitches together
RS: Right side of the work
BO: Bind off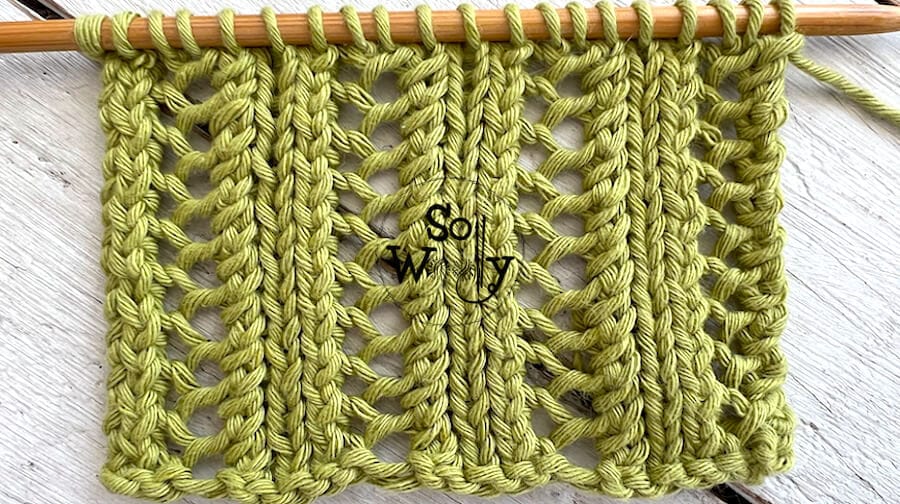 How to knit the Two-row repeat Lace stitch
CO multiples of 5 st; i.e.: 5 * 3 = 15 st.
1º and every odd row (RS): *k2tog, yo, K3*. Repeat from * to *, to end
2º and every even row: *P1, p2tog, yo, P2*. Repeat from * to *, to end.
These two rows create the pattern. Repeat it until the desired length is reached.
When finished, BO knitwise after row 2 (RS).
This is the other side of the work: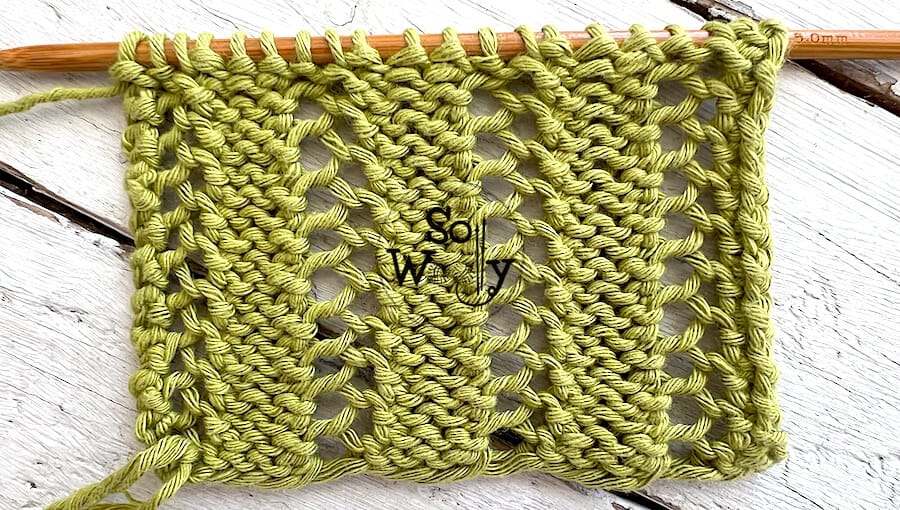 Enjoy the video tutorial:
Thank you for watching!
Hugs, and happy knitting.
Carolina – So Woolly
"As an Amazon Associate, I earn from qualifying purchases."