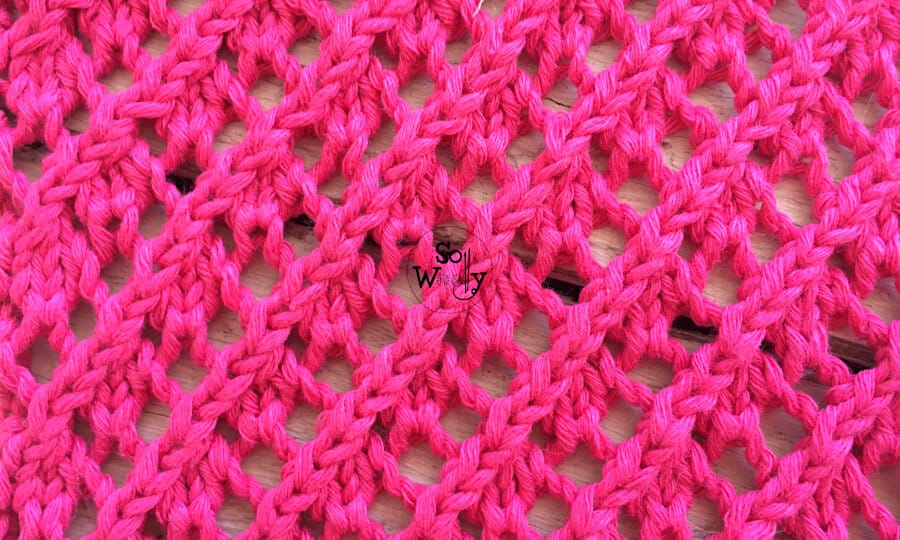 Tilted Tiles knitting stitch pattern: Diagonal Lace, step by step
In today's tutorial, you'll learn how to knit the Tilted Tiles stitch. A lace pattern, which forms little diamonds, along with diagonal embossed lines.
Therefore, the Tilted Tiles is an elegant and delicate pattern, for tops as well as cardigans or sweaters.
In addition, it's a lovely stitch for knitting a scarf, rectangular shawl or wrap. To put a cherry on top, knit an edge on each side of the piece, using Seed, Irish Moss, Bumpy, or just the classic Garter stitch.
However, before we get started with today's pattern, I'm sharing some of the best tips and tricks when you absolutely, positively just have to knit lace stitches:
First of all, try to use sharp pointy knitting needles. These are perfect! #ad
The time and effort saved is priceless; they will make your work much easier…full stop.
Secondly, ALWAYS, Always, always… knit a swatch!
It is the only way to be absolutely sure of how many stitches to cast on as well as making sure that we have the right sized needles and the proper yarn for the project at hand.
Then, if you knit a 4 x 4 inches (10 x 10 cm) square, you'll quickly see, the need to go up or down a needle, or, that the chosen stitch doesn't work with the fiber (wool, cotton, linen, Alpaca, silk, etc.).
Finally, don't forget to block your work when it's finished. Click here to see how to do it, step by step. 
By blocking your knit work, you'll achieve an incredible stitch definition. Furthermore, that technique will help your fabric to lay flat, something essential when knitting lace 😉
Now that you have everything you need to try this adorable Tilted Tiles stitch, grab your yarn and needles, and let's knit together!
Abbreviations
CO: Cast on
RS: Right side of the work
WS: Wrong side of the work
st: Stich
K: Knit
P: Purl
yo: Yarn over (bring the yarn forward)
k2tog: Knit two stitches together
k3tog: Knit three stitches together
BO: Bind off
This swatch was knitted using a 100% cotton yarn (one of my favorites, because of the wide range of colors, and its texture and natural look) #ad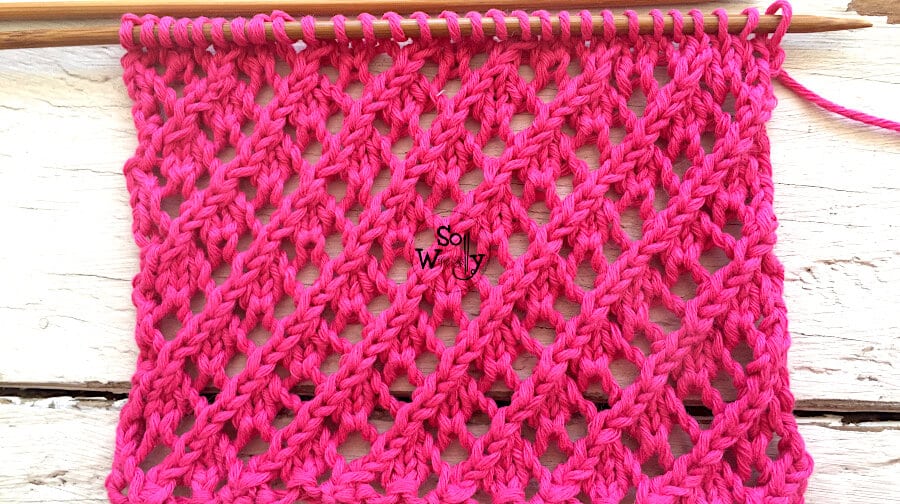 Tilted Tiles knitting stitch pattern
CO multiples of 4 + 5; i.e.: 4 * 4 = 16 + 5 = 21 stitches.
1º row (RS): K1, *yo, k3tog, yo, K1*. Repeat from *to*, to end.
2º, 4º, 6º and 8º rows: Purl across.
3º row: K1, *k2tog, yo, K2*.  Repeat from *to*, to end.
5º row: k2tog, *yo, K1, yo, k3tog*. Repeat from *to*, to last 3 st, ending with yo, K1, yo, k2tog.
7º row: K1, *K2, k2tog, yo*. Repeat from *to*, to last 4 st, ending with K4.
These eight rows create the pattern. Repeat them until the desired length is reached. When finished, BO purlwise, after a row 7 (WS).
This is the wrong side of the work: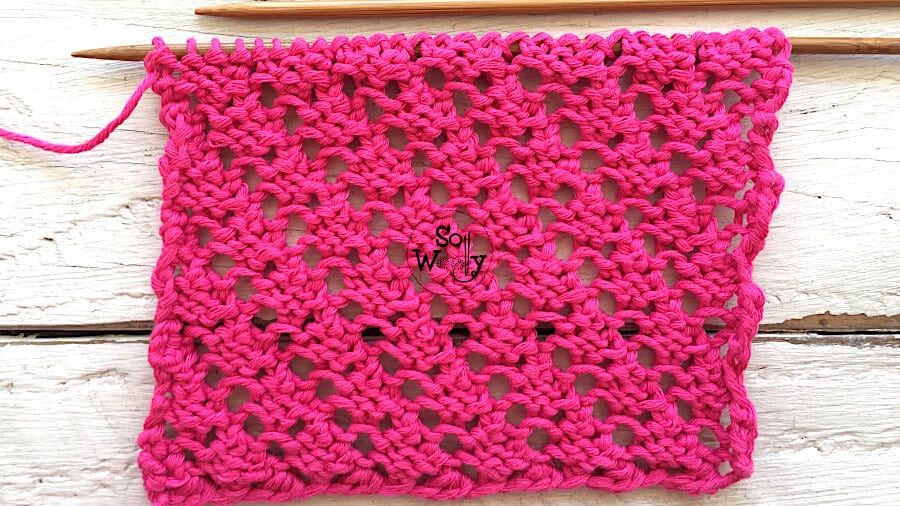 Enjoy the video:
I hope you like it, my super Woolly!
Keep safe, and happy knitting!
xoxo
Carolina – So Woolly
Lastly, if you are searching for more easy lace stitches? Click here!
"As an Amazon Associate I earn from qualifying purchases."