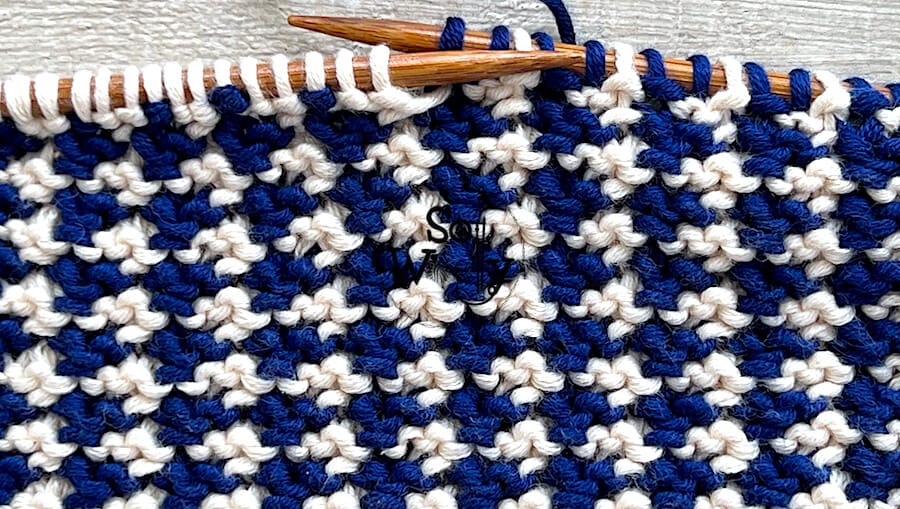 How to knit with two colors: Tweed stitch
In this tutorial, I'm showing how to knit with two colors, while teaching the Tweed stitch.
Honestly, it's so easy, that you don't even have to purl!
Actually, the two-color Tweed stitch is a four-row repeat pattern, two of which are plain knit rows… it couldn't be easier.
It's a stitch pattern ideal for beginners; no previous experience in knitting with colors will be needed, you'll see!
However, if you are a beginner in the colorwork technique, I'd suggest you keep reading 😉
How to knit with two colors: Helpful Tips
I will not tire of repeating…
First of all, use contrasting colors; it'll help you to "read" your knitting quickly.
You'll be able to see where you are, and what was the last step done.
Secondly, try to work with fibers of the same thickness, quality, and brand, when possible (preferably worsted weight or thicker; thin yarns are unsuitable).
Thirdly, when talking about fibers, the wool yarn should be your first option. It's very forgiving, elastic, and durable.
You can also work with blends, for instance: wool-acrylic, wool-silk, etc (or even a good quality acrylic yarn).
Finally, when finished, don't forget to block your work!
The process of blocking will improve the tension of the stitches. It "calms" the fibers 🙂
Click here to see how to do it, step by step
Ok, grab your needles and two beautiful colors of yarn, and let's get started!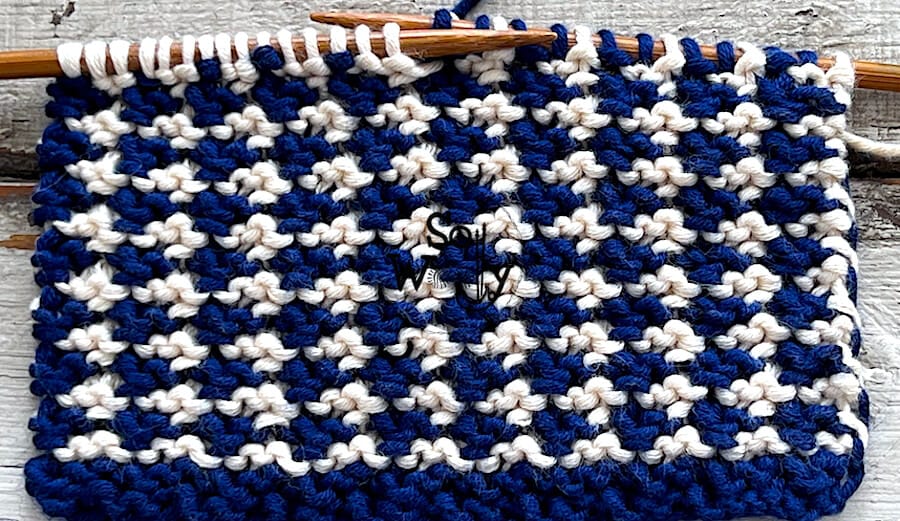 Abbreviations
CO: cast on
CA: Color "A"
CB: Color "B"
K: Knit
wyibsl1: With yarn in back, slip one stitch
BO: Bind off
RS: Right side of the work
WS: Wrong side of the work
N.B.:
Slip the stitches purlwise (as if to purl).
The odd rows form the right side of the work.
How to knit in two colors: Tweed stitch
With CA, CO multiples of 3; i.e.: 3 * 5 = 15 st.
1º row (RS) Using CA: *wyibsl1, K2*. Repeat from * to *, to end
2º row Using CA: K across
3º row Using CB: *K2, wyibsl1* Repeat from * to *, to end
4º row Using CB: K across.
These four rows create the pattern. Repeat them until the desired length is reached.
When finished, with CA, BO knitwise after a row 1 (WS).
This is the other side of the work: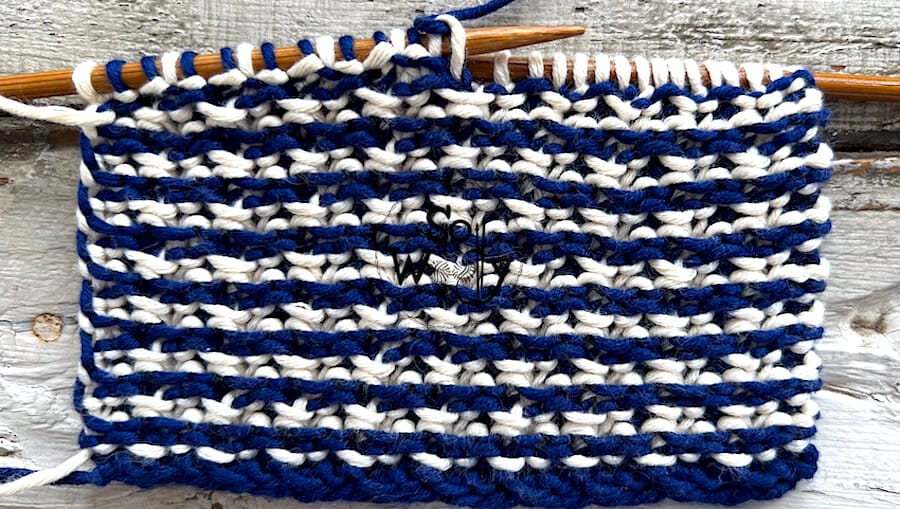 Enjoy the step-by-step video tutorial:
Thank you for watching, and don't forget to share the love…
Hugs, and happy multicolored knitting!
xoxo
Carolina – So Woolly
"As an Amazon Associate, I earn income from qualifying purchases that meet the applicable requirements."