How to knit the Fancy Openwork stitch pattern
Today, you'll learn how to knit the Fancy Openwork stitch, which as you know is absolutely gorgeous 🙂
It's a four-row repeat pattern, two of which are plain purl rows… easy-peasy!
In fact, when working the odd rows, the only two techniques used are: yarn over, and knit three stitches together.
And the same steps will be repeated throughout those two rows, so it's also quick to memorize.
The Fancy Openwork stitch is a pretty versatile pattern: Use wool (or any of its blends), for Autumn-Winter clothing and accessories.
Or use cotton or linen, or their blends, for Spring-Summer garments.
In addition, it's a great pattern for scarves, cowls, tops, and even vests, cardigans and pullovers.
Nevertheless, if your choice is to knit a scarf/cowl, don't forget to add a nice edge or border on each side of the project.
Finally, I'd like to share with you a couple of tips for success:
What to do when knitting openwork or lace patterns
Firstly, everything will go smoothly if you use sharp-tipped needles (the decreases will turn really easy to do, saving you time and effort) #ad
And, to get a professional result (a plain fabric, without wrinkles, and crispy stitches), don't forget to block your garment.
Believe me, the difference is massive!
If you are knitting a sweater, I suggest you block the pieces before joining them.
This blocking board and the pins will be your best friends #ad
Ok, grab your needles and some nice yarn, and let's get started…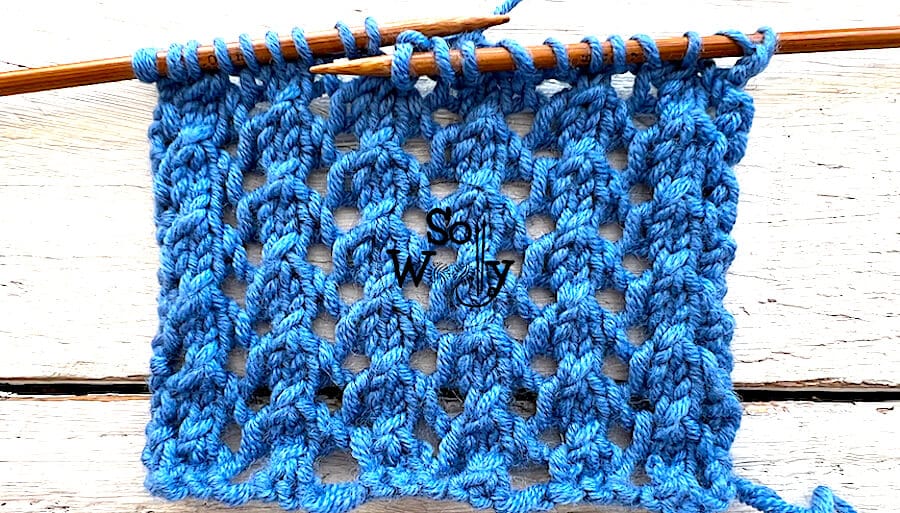 Abbreviations
CO: Cast on
st: Stitch
K: Knit
yo: Yarn over
k3tog: Knit three stitches together
RS: Right side of the work
BO: Bind off
WS: Wrong side of the work
The Fancy Openwork stitch knitting pattern
CO multiples of 6 + 2 st; i.e.: 6 * 3 = 18 + 2 = 20 stitches.
1º row: K1, *yo, k3tog, yo, K3*. Repeat from * to *, to last 7 st, ending with yo, k3tog, yo, K4.
2º and 4º rows: P across
3º row: K4, *yo, k3tog, yo, K3*. Repeat from * to *, to last 4 st, ending with yo, k3tog, yo, K1.
These four rows create the pattern. Repeat them until the desired length is reached.
When finished, BO purlwise after a row 3 (WS).
This is the other side of the work: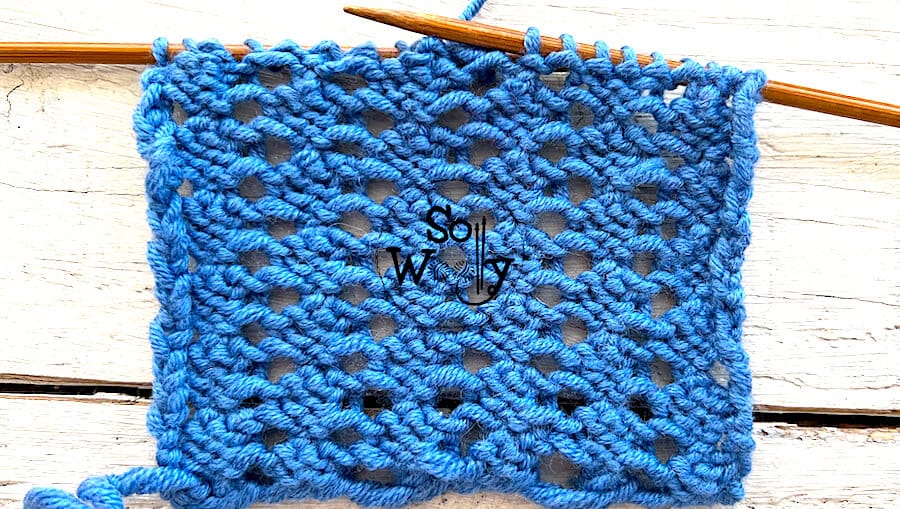 Enjoy the video tutorial:
Thank you for watching, and don't forget to share the love!
Hugs, and happy knitting 🙂
Carolina – So Woolly
PS: Loving the openwork stitches? Click here to see the whole selection!
"As an Amazon Associate, I earn from qualifying purchases."